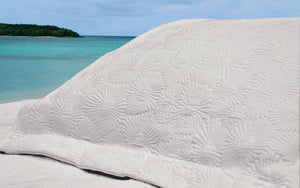 In Harmony with Nature
Affina brings nature's intrinsic patterns, colors, textures and forms inside to balance mind, body and spirit through the senses.

Seaweaves™ consists of four distinct collections of designed, sourced and sampled organic home and spa products available to large retailers and hospitality entities for license or direct import. For more info email us at: orders@affinashop.com
Custom Design
We offer custom design and product development services to retailers and hospitality companies through our design collaborative, Surface.
With over 25 years of experience designing for some of the leading design-driven decor brands, our strengths lie in our extensive manufacturing resources, technical know-how, and our ability to create a cohesive, unified story across a full spectrum of product categories.
What also sets us apart is our technical know-how and large library of techniques, materials, patterns and forms, which allow us to continually innovate and address our clients' goals. 
Working with your team, we can devise exclusive collections unique to your desires and specifications, ensuring the highest quality of product at your desired price points.
A few people we've worked with: 3M, MoMA, The Guggenheim, Crate&Barrel, CB2, West Elm, Knoll, Spinneybeck, Couples Resorts & Spas, Golden Rock Resort
For more info, please contact us through our design site: surfacecreative.com